More often that not it seems that as our age increases, the enthusiasm or effort around birthday celebrations decrease.   I know in my circle of friends and family we tend to use a birthday as an excuse to go out for celebratory food and drinks — YUM. But I am going to show you that it doesn't mean you can't get a little crafty and add some flair for extra fun!
It was KerPop's birthday and we thought we would surprise her with a little family outing. As any busy mother of three does on a busy weekend, she plowed through the kids' social obligations, sports practices, meals and the necessary household chores only to learn that her husband Matt was going to take the family out for dinner. He steered the conversation to result in a not-so fancy location that the family all enjoys, and our pre-planned location, Buffalo Wild Wings.
For those that may not have been to Buffalo Wild Wings, it is a sports bar type atmosphere with minimal décor that both kids and grown-ups can enjoy. Knowing we were trying to also make KerPop feel special, and since sports aren't necessarily her thing, we definitely had to bring some flair to add to the surprise!
KerPop's favorite cake flavor is pistachio so that in itself became the inspiration for our theme – pink and green! Remember, it's the thought that counts so have party — will travel! Here are just a few easy ideas to help make your party pop wherever you may be:
Disposable Table Cloths – We used light green disposable tablecloths to help set the stage and create the new backdrop for our theme. We thought pink might be a tad bit too obnoxious for the sports bar 😉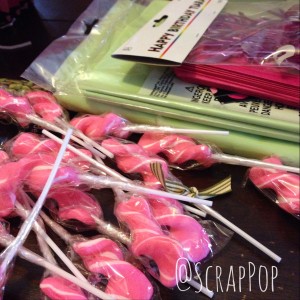 Napkins – Sure, the restaurant provides stacks of white napkins but napkins are an inexpensive way to add color.
Tissue Paper – Another way to add color is to decorate with tissue paper. We made tissue pom cupcakes with pink tissue to complement the green.
Favors – Everyone loves a little favor… so we went with pink bubblegum flavor lollipops and added some green and khaki ribbons.
And our own cupcakes! – It was my first time making pistachio flavored cupcakes. I found a few recipes online that suggested using pistachio pudding, so I did and it worked great to bring out the flavor and sweet scent. I also included finely ground pistachios to add texture to the cake batter and sprinkled some on the icing as well.
Listening to: Sassy Fun Playlist on Spotify… but I have definitely replayed Sugar by Maroon 5 more than once 😉
Drinking: Spa-ritz-er!