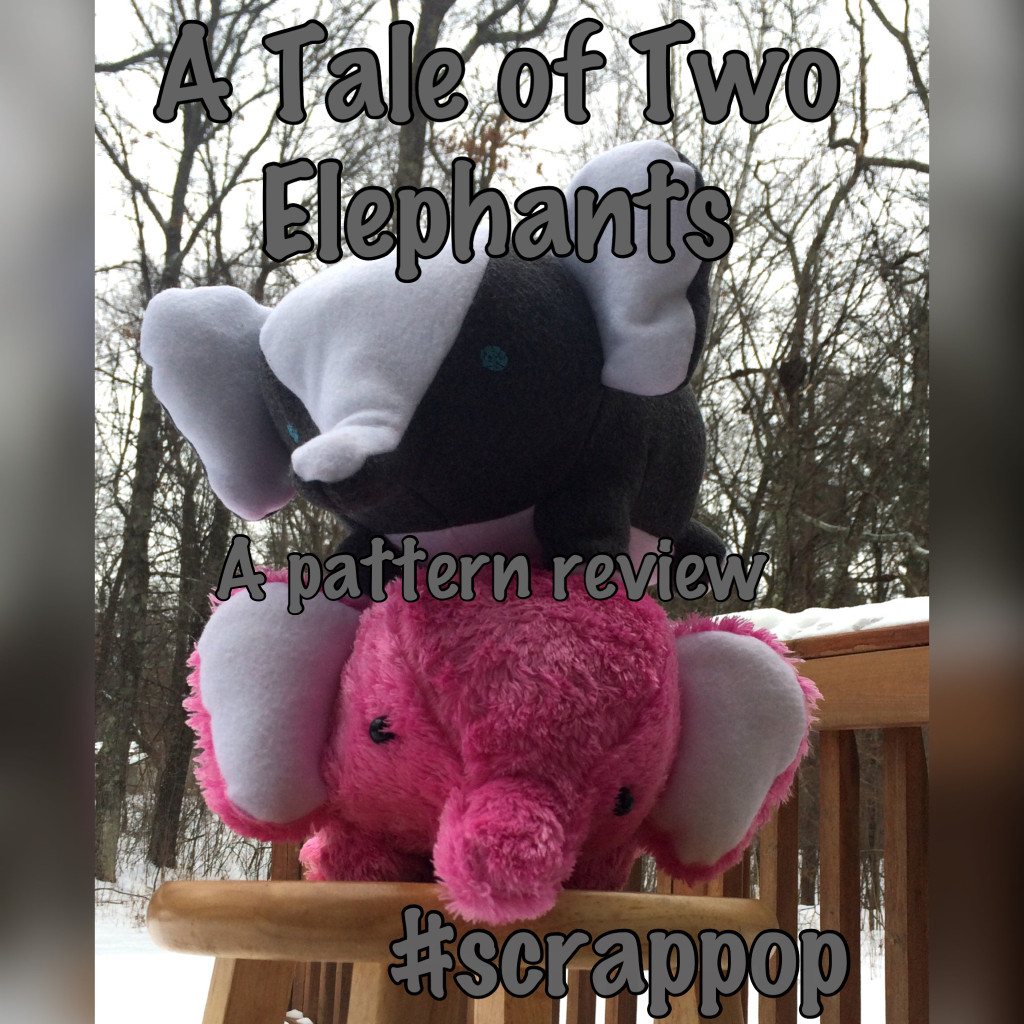 So, here's my review for this month. I decided to make elephants for my little carnies as part of their Valentine's Day gift. I had no idea what I was doing…
I chose the DIY Fluffies Love Elephant pattern. My pattern was delivered, and I printed it out, looked it over quick, and didn't think much of it…then I sat down to make these guys and read that the seam allowances WERE NOT included in the pattern. No problem, I thought. I'll just trace 1/4″ around all the pieces.
Ah? Nope. I was so frustrated! I mean, this was a pattern people PAY for! Then, I took my problem to the fine folks at the SewCanShe Sewcialites Facebook Group, and I found out that this was pretty common with stuffie patterns and all I had to do was trace the pieces directly to the fabric and guess the seam allowance. Then, when it came to sewing the pieces together, it was just a matter of pin matching the lines that I traced. (Thank you quilting background!)
After that, my first elephant went together fairly quickly…then I decided to try my luck at faux fur…pink faux fur…
Listen, let's just say that if you ever see me at The Joann's, and I've got faux fur in my cart, RUN!!! The body snatchers have taken over! Seriously, the mess from this mess was phenomenal…I mean, faux fur is the fine metallic glitter of the fabric world.
But, in the end, it was the perfect choice for an elephant present for a 6 year old girl. The Carnies love their stuffies, mama got to sew something new, and all is well. And cue the detail shots….
Here's the link to the pattern if you are feeling sassy…she has tons of other stuffie patterns…but I won't be trying them for awhile.
Listening to: the gentle whir of my Dyson sucking up bits of faux fur
Drinking: You guys! I totally invented (probably not) a new cocktail! I give you:
The Margarita Spritzer
Fill a pint glass with ice
Add 2 parts tequila ( I like blanco) and 1 part triple sec. I'm not going to say how much a "part" is…I don't know your life
Fill the rest of the glass with equal amounts margarita mix and tonic water
Garnish with a lime and knock back as many as you need to pretend it's Spring.