Well Hello. I am so excited about this pattern! It's the Banyan Top & Tunic from Figgy's Patterns available at Go To Patterns.com (affiliate link)
Here is the cover shot for the pattern. As you can see, it comes with a "boys" and a "girls" option, and tunic or tee length for the girls.  Georgia already has a top like this from Old Navy or Target or something, and I love it on her, but it's a little too short to wear with leggings, and I was already trying to work out how to hack a version of it when, *choir of angels* I saw this pattern. I chose the tunic length, and I let Sweet G choose the fabric from my stash. She picked this purple-y scrap that had a lot of width, but was only about 16″ long, so I just cut some pieces and serged them together to get the cute little effect you see here.
Because it's a knit, I left the hems raw, and the whole thing took me, no lie, 20 minutes to sew. And that includes stopping halfway through to re-load a Sesame Street episode and toss some more goldfish at The Boy. (Side note: Have you seen the new HBO sponsored episodes of Sesame?!?!?! Sooo pretty!)
Here are some more shots of the top:
And one more time, here's the link to the pattern.
Then The Boy wanted to be a model: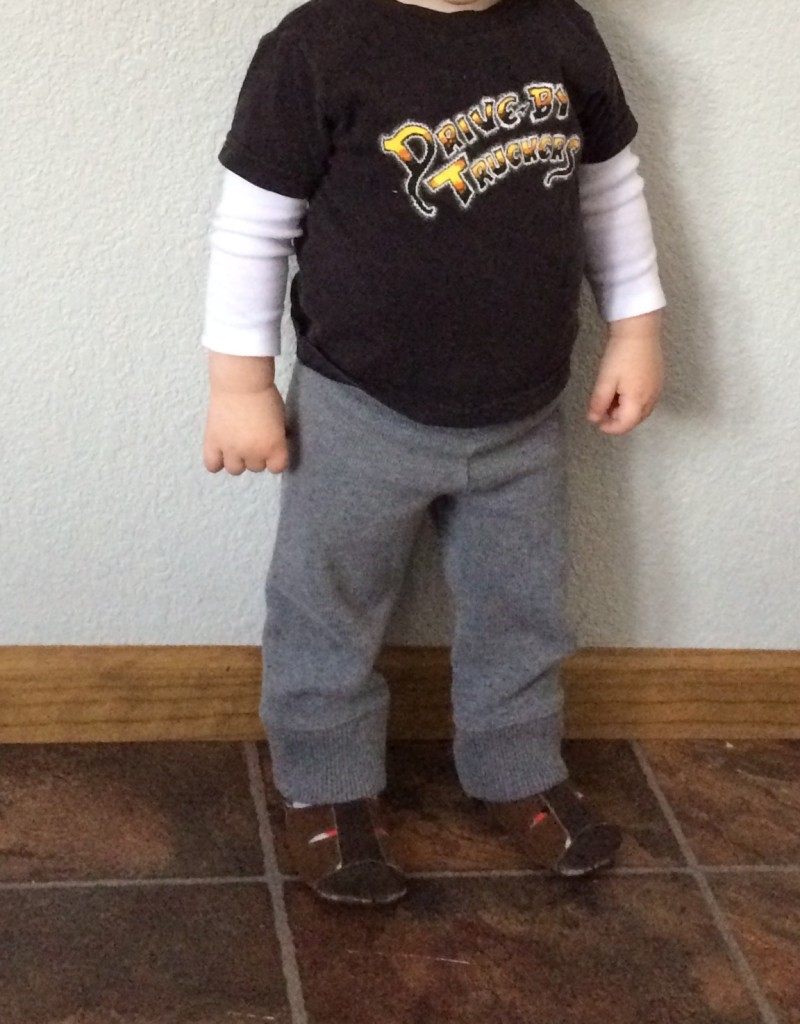 But it turns out that this picture is kind of legit, because I made his little pants out of a sweater that my husband ruined on Christmas Eve when he got a little too excited about the bacon wrapped little smokies. In his defense, wrap little smokies in bacon, cover with a stick of melted butter and a cup of brown sugar and bake at 350 till crispy….I mean…..damn. Where was I? Oh yeah, the pattern for these is just trace some knit pants he already had and serge. Here's a tutorial.
And one more thing? I was all set to get a whole bunch of sewing done over MLK weekend and then my stinking carnies dropped a stomach flu bomb on my house. Luckily, Daddo was not taken with the flu, and I was able to chill in bed with this book and this dog….but I was staring longingly at my sewing room the whole time.
Drinking:  Tonic Water ( I like it better than Ginger Ale)
Listening to: the washing machine pretty much running 24/7, you know…stomach flu=laundry