Summer is nearly here, and with it, tons of outdoor parties and requests to bring "a dish to pass". If you are outside of Minnesota, that means pot luck. Now, everyone will be going to Pinterest looking for the newest and cutest idea….but not you, oh no. You're going to click on one of these links, make one of these nostalgic gems, and grab all the attention because people are going to straight up go, "Oh man! I remember these from when I was a kid!" and gobble everything all up. Then there will be you, all awesome.
First up…that no bake staple since 1776! I'm pretty sure Rice Krispie Bars were at the first Fourth of July celebration. Ben Franklin hisownself said, " Marshmallows and butter are proof God loves us and wants us to be happy"
The Classic-The Best RKTs
Taking it up a notch- Chocolate Peanut Butter Rice Krispie Treats
Adding other cereals to the party-Triple Chocolate Cocoa Puffs RCTs
And then she had to go and do this-Patriotic RKTs
Because it's Summer, Jello is cheap, and "it's just what you do".
My mother in law is famous for this one-Lime Jello Salad
And MmmPop's MIL does this one-Strawberry Pretzel Salad
ChellePop is known for this one-7 Layer Jello
and of course, Poke cake-Strawberries & Cream Poke Cake
You could always bring a pan of bars…
Peanut butter? Chocolate? No bake? YUUUUUP! (I love that she didn't mess around with an 8×8. 9×13 all the way, Baby!)-No Bake Peanut Butter Cup Bars
So, this one is a neo-classic. Baking a Symphony bar in some brownies? Genius-Symphony Brownies
Ok, you will get kicked out of the Midwest if you don't have these bars at least once a year…like I think it's the law….pretty sure I heard that somewhere-7 Layer Magic Cookie Bars
And, your Summer is wasted if you don't make some of these-Lemon Bars
My dear friend, Carry, is from Iowa…but that's ok. Her mother made this on the regular, and now she's bringing them to block parties and BBQs in her Chicago suburb. She's noticed a definite uptick in her invitations. Coincidence? Nope-Cherry Cheesecake Bars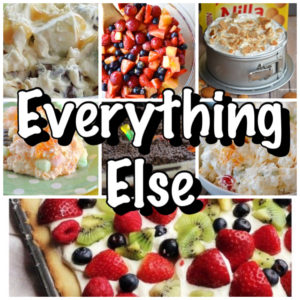 And now, I present to you salads with no vegetables, many uses for Cool Whip, and of course, a way to incorporate more gummy worms in your diet
It's a crowd pleaser, and it's "healthy"-Quick and Easy Fruit Pizza
I'm told this is a Southern classic, but this Yankee will dive face first into it any day-Banana Icebox Cake
So you get invited to a vegan BBQ, and you decide to go anyway. This is not only edible, but vegan too. I promise, I looked it up…vanilla pudding mix is vegan.-Secret Fruit Salad
Ambrosia. That's right, Ambrosia-Ambrosia Salad
And then there's Ambrosia's Northern cousin, Fluff Salad. –Fruit Fluff Salad
She doesn't tell you to add the Gummy Worms on top, but I think you can figure that out for yourselves. Bonus points if you make these in disposable cups for "cupcakes"-Dirt Cake
And last is MY signature dish. I have been bringing this around for like evah, I even bought a special travel bowl with a lid JUST to bring this to parties. Nothing else gets made in this bowl. I make people serve this as a side instead of as a dessert, because "it's a salad". You know what? No one has ever argued with me.-Snickers Taffy Apple Salad
I hope you spend your Summer eating your way through this list, and you find the one that's "you".
Me? I'm going to finish this iced coffee, put The Anklebiters to bed and knock back some margaritas because it was over 70 degrees today, and it was over 70 degrees today.
Drinking-Iced coffee
Listening to-"Let's Eat" by Macklemore and Ryan Lewis