One of the most favorite things I recall about being 5 was when it was my week to bring treats to Kindergarten. I LOVED it when my mom would bake cookies and send them to school with me!
Once I became a mom, I couldn't wait for the days where I could bake and send homemade treats to school.  I was so bummed when I learned that you can't do that anymore!  As far as I was concerned, it was going to be one of the BEST parts of being a mom. I now understand all the reasons why this is and of course, am happy to comply to ensure that all kids are safe and get to enjoy treats equally. But still…
When the occasion arises to make and bring treats – I'm all over it!  My daughter Lo has been learning the finer points of ballet with some lovely little ballerinas for the past four months and it was time for their first demonstration + celebration.
When I heard we could bring treats, my inner debate began – what to make?  Something cute, tasty, portable, not messy, nut free – but also a REAL treat!  Hmmm – I know – Cake Pops!!
First off, I need to give all credit to Bakerella for the inspiration and know-how that I have gathered from making cake pops. She was THE pioneer and is still the Queen of Cake Pops, IMHO.  Any time I have a cake pop conundrum, I go back to her basic tips and she's saved my cake pop project.
Okay – so back to the project. I decided to make ballerina inspired cake pops.  One thing I've learned is that the best cake pops (and easiest to dip) are shapes that are as compact and uniform as possible. Ballet slippers are basically an oval shape so I thought they would be easy and fun to make – plus I didn't have to make a ton, just enough for all the ballerinas.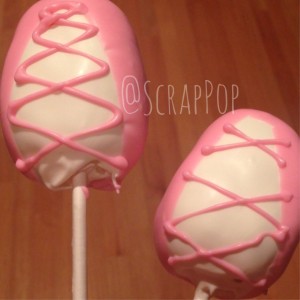 Ingredients:
Yields about 36 – 48 cake pops (depending on size)
2 – 13×9 cake mixes  (I typically use box cake mixes for cake pops – honestly, if you're going to crumble cake up in little pieces, there is no need to bother with homemade cake)
1 can of creamy vanilla frosting
3 bags white candy melts  (I recommend Wilton or Merck's)
2 bags pink candy melts
Lollipop sticks
Cookie sheets
Wax paper and plastic wrap
Bake the cakes, let them completely cool and be sure to cut off a thin layer across all edges, tops and bottoms of each cake – you don't want brown bits in your cake pops. Crumble the cake into small crumbs, and add the can of frosting (I find 2 cakes to 1 can is a great ratio), thoroughly mix and then form into equal, ping pong size, round balls.  Place on cookie sheets lined with waxed paper and then cover with plastic wrap. Chill overnight in the refrigerator (or at least several hours –  the cooler your pops are when you do the dipping, the easier it is. DO NOT FREEZE!)
At dipping time, I melted my candy melts following the package instructions. I then began to work with 16 of the cake balls, shaping them into an egg shape with somewhat of a flat front. I then dipped them all in white and let set, while I prepared the pink melts (again, follow the instructions for melting exactly – you'll get the best results).  I sort of "rolled" each slipper in the pink, leaving a white area for the laces to come.
When the pops were dry I put some of the melted pink candy melt into a piping bag with the finest tip and drew on the laces. I tried a variety of criss-crosses and finally by the 4th or 5th one I got into the groove. The thing about cake pops is that, en masse, they all look darling so they don't have to be perfect and you can put the best ones up front :-).
When I finished the ballet slippers, I dipped the rest of the cake balls in white or pink candy melts and Lo help me dust them with pink edible glitter so she got to be part of the fun.
I wrapped each pop in a lollipop/treat bag and placed them in a basket I had lined with a bunch of pink tulle left over from one of Lo's former birthday parties. The tulle nestled the cake pops just right and kept the whole basket secure in transport.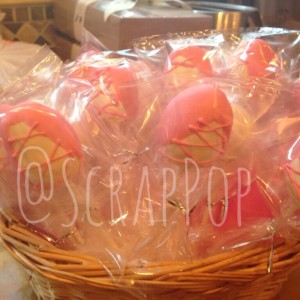 Needless to say, the tiny dancers were just fabulous and their eyes lit up when they saw the ballet themed cake pops that celebrated just how hard they worked and how special they all are. (and I got to feel like a Pop Star 😉
Music: Arctic Monkeys channel on Pandora
Drink: Lagunitas Pils