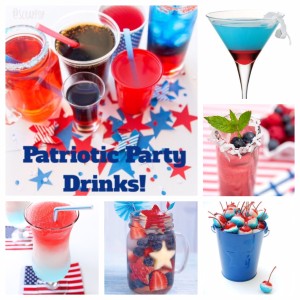 4th of July fun doesn't have to be just for the kids!?
Keeping that in mind, we will keep this post short and sweet so you have time to sample a few of these ideas in planning your 4th festivities.  Nothing draws your attention to a cocktail like a splash of color or fancy garnishes. Here are a few Pinterest Inspired drink ideas to spice up the adult bevi's this 4th of July.
Boozy Bomb Pop from Simply Fresh Cooking
Yes — you guessed it, not only do they look like the childhood favorite bomb pop popsicle but they taste like it too.   I like the fact that this recipe can be made in advance and frozen for ease of serving!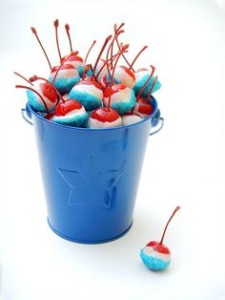 Cherry Bombs from Frosting and a Smile
To ensure you have a little more libations flowing throughout your party, give these cherry bombs a try! Similar to our post on Drunk strawberries these little cherries will pack a punch!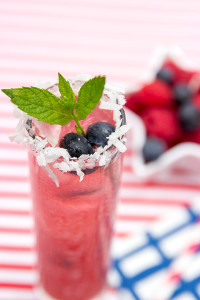 Blueberry Coconut Sparkler from Spiced
Adding the flavor of coconut rum just screams summer to me!
Fruit ….. and just about anything in a Mason Jar from DIYReady.com
We all know cookie cutters can help turn any fruit into a decoration but adding it to a drink is just showing off 😉 DIY Ready shares how fruit can dress up your Gin & Tonics, Vodka & Sodas or create your star spangled Mojitos!
Red, White & Blue Martini
For the more refined… a martini can be dressed up in our patriotic colors with a little help from Hpnotiq and Grenadine.
No matter which drinks you do choose, be sure to enjoy a cold one this Fourth of July and drink responsibly and hydrate throughout the day as no one likes the aftermath!
Have a safe and Happy 4th!