With the number of kids running through my house at an all time high, (I can safely say it will never get higher 'cause this uterus is DONE) I needed to do something about the "I just need a sip of water" cup.  Which then becomes "Oh, I forgot my cup was just three inches away from me, I better get out two more." I was loading an entire top rack of the dishwasher with kid cups and my wine glass. (I keep one all day long. But that is a post for another day. 🙂 )
"Ma-ommmmm – I just need a sip of water"
I decided I would try out the paint markers that are on every end cap of every store these days. I spent the morning with my lover, AKA Target, and found five white ceramic mugs.
To keep it simple, I drew the outline of each kid's initial. They then set to work filling them in and decorating them with the paint markers we were all anxious to try.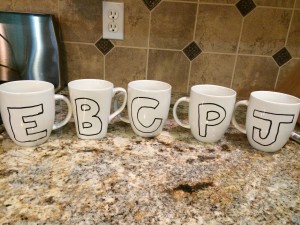 Once each masterpiece was finished, I baked them in the oven on a cookie sheet for 30 minutes at 350 degrees.  Tip that should go without saying — You will need to allow them to cool completely before using them.  I am hopeful this will end the "one cup, two cup, red cup, blue cup" saga in my house.
Tune in next week to see if these children can figure out how best to answer the "were you raised in a barn??" question that is screeched  asked daily.
Music: Fun in the Country on Spotify
Drink: Yes, I choose white ceramic so no one can see what is inside my cup 😉  Who's with me?!