When we started thinking about Lo's upcoming 5th birthday, she was still talking about meeting all her princess friends from our first ever trip to Disney World earlier that year. Out of all the princesses – even Frozen! – she was still talking about Rapunzel. So off I went into planning the BEST.BIRTHDAY.EVER!
I always kick off the party planning process with invitation research and my favorite place to do that is on Etsy.com. There was no shortage of Tangled inspired invitations. The modern take on the Tangled Sun plus the perfect shades of purple and yellow were a great place to start!
From there, I did some searching on Pinterest and chatting with MMMPop and all of it started coming together in a swirl of purple, yellow and hot pink. We transformed our living room into the village of Corona by stringing purple pennants enhanced with cut outs of the Tangled Sun all across the room.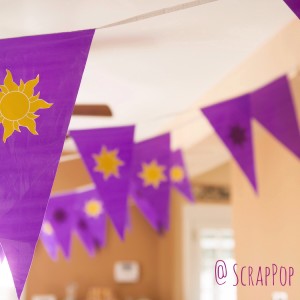 We rented a child size table and matching chairs that ensured everyone would have a seat at the head table.
I accented the party décor with yellow lanterns I already had (thank goodness for 3M party hooks) and created posies of lavender, deep purple and hot pink carnations with pops of bright yellow roses.
On the day of the party, all of the guests were encouraged to wear their favorite princess attire. As they made their entrance, the little girls oohed and aah-ed over each other's fancy party wear and then commenced to following the long braid of yellow tulle "hair" adorning the banister to see if Rapunzel was up in Lo's room
Once everyone had arrived, they were all invited to the table to paint their own masterpiece. As magical as their paintings, a knock on the door came and Rapunzel arrived at the party!
While the girls spent time with Rapunzel reading stories, having a dance party, making their own crowns and getting a makeover,we transformed the table into a banquet fit for the princesses. Of course Pascal made sure everything tasted great!
After getting one last hug from Rapunzel and having their photo taken in front of the glowing lights of Corona the girls moved on to the glitter dusted cake resting on a royal pedestal and sang a rousing rendition of Happy Birthday to the birthday girl.
As they departed to their own kingdoms, they each received a re-usable Tangled bag with their painting, Pascal party blower and a few little Tangled Trinkets.
Princess Lauren declared that it was indeed her BEST.BIRTHDAY.EVER!
Sources
Cake: Alliance Bakery (http://www.alliancebakery.com/home/)
Linens and Rentals: Tablescapes (http://www.tablescapes.com)
Invitation and Thank You Printables: LiPPaperies (http://www.etsy.com)
Party Printables: PagingSuperMom: (http://www.etsy.com)
Tulle: (http://www.tulleshop.com)
Pennants and Party Bags: (http://www.amazon.com)
Photography: Megan Moore
Pascal Party Blowers: MMMPop (http://www.scrappop.com/about/mmmpop/)
Rapunzel Visit: Princesscapades (http://www.chicagoprincessparties.com)