Looking for a fun way to adorn the gift of a book? Or maybe you are looking for a fun craft to do with the kids?
The corner bookmark is the answer! The possibilities are endless on how to decorate them and you already have all the supplies you need at home.
Supplies Needed:
Cardstock paper of any color or pattern.
Scissors
Glue Stick or paper adhesive of your choice
(Optional) any art supplies your little ones enjoy working with like, crayons, googly eyes, glitter, markers, paints, stickers…etc.
Let's Get Started:
Start by picking out the paper you would like to use for your bookmark and cut it to be a square. The examples pictured below show an 8×8 yellow and a 6×6  green square.
Fold the paper diagonally to make a triangle. Be sure to press your creases firmly.  
Take the outer corners and fold to meet the center of the top of the triangle. 
Unfold from the last two folds to return to the triangle of step 2. 
Fold one side of the top of the triangle to the bottom of the paper. 
Refold the outer corners of step 3 and tuck the edges into the newly formed pocket.
Decorate as desired.
Add eyes, mouth, sunglasses, hair, teeth…etc.
For the examples of the frog and reindeer bookmarks pictured, a second color paper was used to create the mouth.
Just remember, the more bulk you add to the bookmark the harder it will be for the book to close.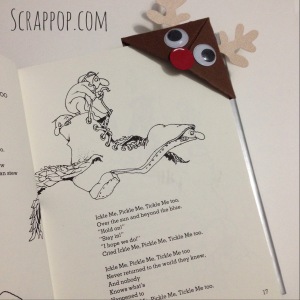 Be sure to share photos of your great bookmarks with us. Tag @ScrapPop on Instagram or in the comments below.
HAPPY CRAFTING!
Music: My Daughter's Pop Playlist (including Megan Trainor, Taylor Swift, and P!nk)
Drinks: None yet (wink, wink) I  wanted to be accurate in documenting my steps.