Like many people, my son has a December birthday. Don't you hate it?!
I feel bad that he gets all his presents for the year all that the same time! So I try to make it extra special in any way I can.  This year I enlisted our Elf, Buddy, to help with a special surprise for my son.
Since I decided to do this at about 11pm the night before his birthday, I rummaged through the craft supplies I already had at home and the idea of a birthday banner was born.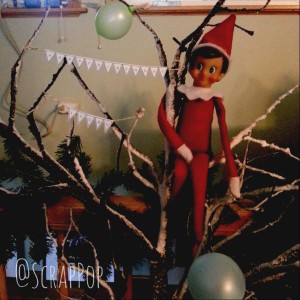 I made two tiny pennant banners on my computer that read, Happy Birthday and Lucas. Printed them and cut them out, keeping them attached at the top. Then I glued them with some srapbooking glue to twine. Because my tree is a rough texture, I just wrapped the twine around the branches and it stuck. Then I remembered I had leftover water balloons from this summer. I blew them up (ignoring the little piddle in my pants from having 3 kids!) and used tiny clips from the dollar bin from Target.
Ta da! A fun birthday wish from the elf was made. And the late night effort was handsomely rewarded with the joy and excitement when my son saw the Elf and his birthday sentiment in the morning!